This day started with the Monday General Session presented by CEO Pat Gelsinger and COO Sanjay Poonen.
Join VMware CEO Pat Gelsinger and COO Sanjay Poonen as they explore bold innovations that the VMware ecosystem is bringing to market, with a special focus on new breakthrough offerings at the intersection of cloud, apps, containers, networking, mobility and security. Whether you work in IT, app development or security operations, you need to build existing skills while simultaneously learning new ones. Tech pros today must master new methods of app delivery, new models for operating in a multi-cloud world, and new strategies to address cybersecurity threats – all while improving the end-user experience. Hear directly from leading-edge customers and learn how you can hone new skills and harness new game-changing technologies.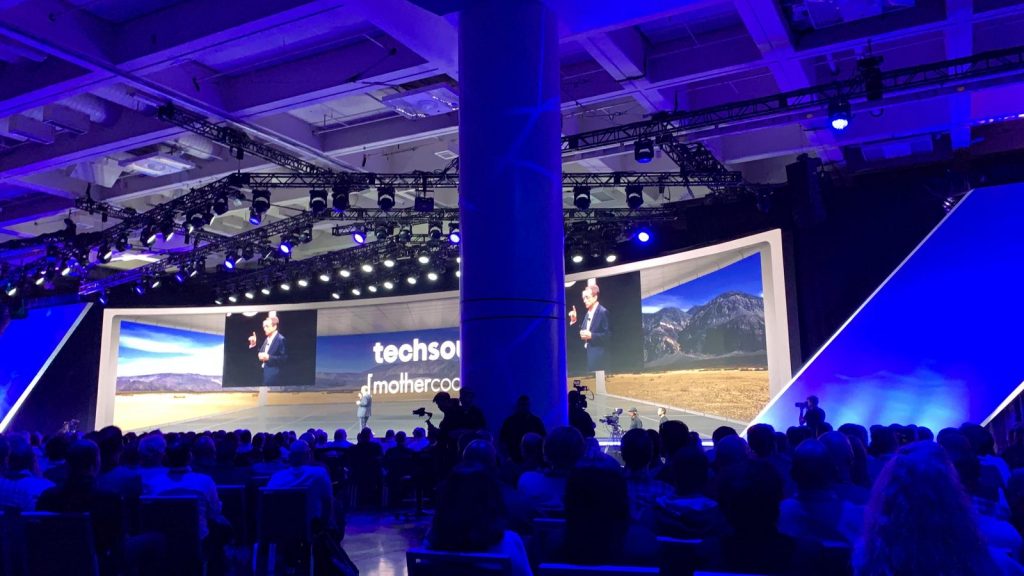 Highlights of the Monday General Session
VMware Tanzu Mission Control.
Empowers IT Operators and Developers in the enterprise to manage it. Using VMware PKS to build and Project Pacific to run the Kubernetes. With VMware Tanzu Mission Control

, VMware is providing customers a powerful, API driven platform that allows operators to apply policies to individual clusters or groups of clusters, establishing guardrails and freeing developers to work within those boundaries.

A SaaS based control plane will securely integrate with a Kubernetes cluster through an agent and supports a wide array of operations on the cluster. That includes lifecycle management (deploy, upgrade, scale, delete) of cloud-based clusters via Cluster API.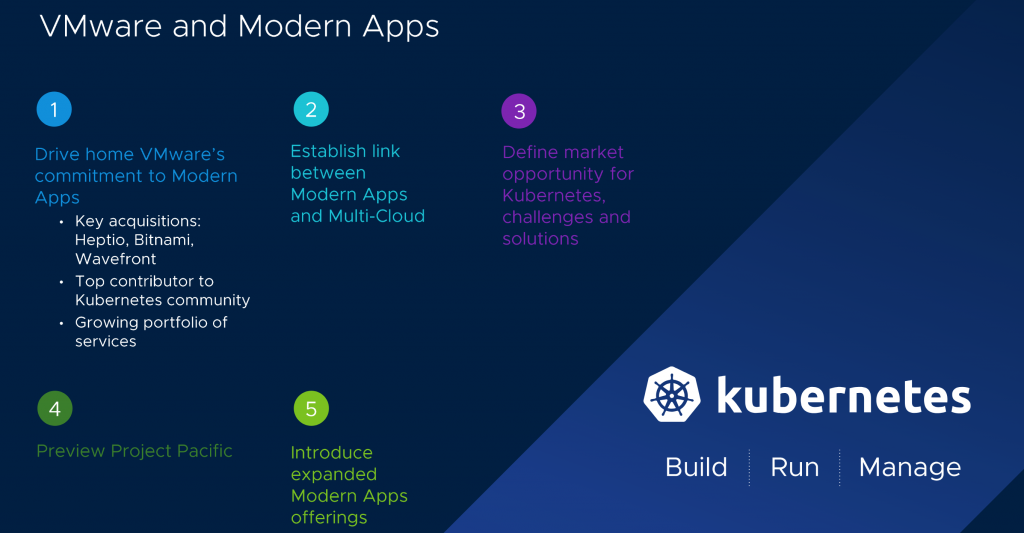 CloudHealth by VMware.
Captures in-dept costs, usage, and performance data for all public clouds. Together, CloudHealth and VMware can help you:

Align your infrastructure metrics and reporting to business objectives for deeper reporting and analysis.
Track and report on data center cost and usage by department to enable chargeback.
Analyze usage and performance to identify under or overutilized infrastructure.
Assess an individual virtual machine's migration cost to public clouds.
Set policies that define how you want to manage cost, usage, performance, and configuration of your data center infrastructure.
NVIDIA, VMware, and AWS.
A partnership to focus on IA development and Machine Learning with Bitfusion. Hardware acceleration for applications—which can take the form of GPUs (graphics processor units), FPGAs (field-programmable gate arrays), and ASICs (application-specific integrated circuits)—delivers efficiency and flexibility into the AI space including subsets such as machine learning. Unfortunately, hardware accelerators today are deployed with bare-metal practices which force poor utilization, poor efficiencies, and limit organizations from sharing, abstracting and automating the infrastructure. This provides a perfect opportunity to virtualize them—providing increased sharing of resources and lowering costs.
VMware Cloud Marketplace.
A library full of validated third party solutions to enable you more and your Apps. Powered by Bitnami. Search & filter through our validated solutions to find those that augment your cloud investments. Leverage the simplicity of a consolidated billing & reporting experience.
VMware Cloud on Dell EMC.
A fully managed cloud experience for your datacenter and edge environments. Initially, there will be a single server type called G1 based on VxRail technology.  Its configuration is as follows:

Dell EMC VxRail G1 E560F
Intel Cascade Lake, 20 cores @ 2.5GHz
192 GB RAM
52 TB raw storage
2x
AVI Networks.
Bringing and powering the NSX Advanced Load Balancer. VMware NSX Advanced Load Balancer (previously Avi Networks Platform) is a distributed application delivery controller (ADC) built for the cloud. It combines a software load balancer, intelligent web application firewall (iWAF), monitoring, and advanced analytics. NSX Advanced Load Balancer uses a central control plane and distributed data plane to deliver application services as a dynamic, multi-cloud fabric. Using the central control pane, customers can dispatch services such as load balancing and web application firewall to any application on any cloud, running on VMs, containers, or bare metal.
NSX Intelligence.
VMware NSX Intelligence is a new distributed analytics engine built natively into NSX-T that provides datacenter-wide visibility for security administrators. NSX Intelligences examines individual packets of virtualized workloads which allows for extremely granular network policies. NSX-T also get a version bump 2.5 which includes a Native Cloud Enforcement mode that allows customers to secure public cloud workloads using native cloud security controls. Other NSX-T enhancements include FIPS 140-2 compliance; the ability to apply Layer 7 application ID-based or context-aware rules to the NSX edge (gateway) firewall for north-south traffic; support for Layer 7 application ID-based distributed firewalling in KVM environments; VPN Enhancements for multi-tenancy; and packet mirroring for east-west traffic monitoring via Service Insertion.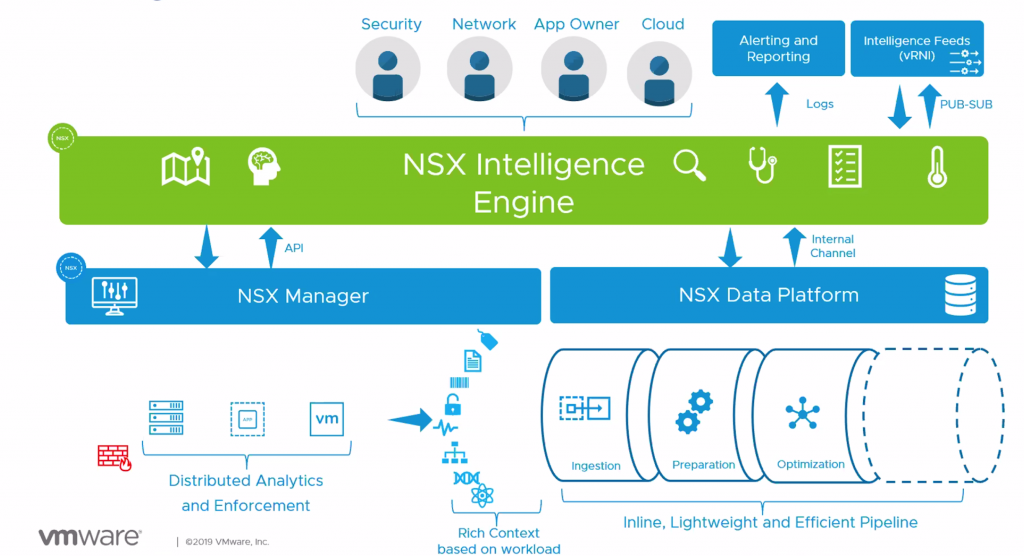 Today's sessions
Linked all available video's from the VMworld On-Demand Video Library of VMworld 2019.
11:30 – 12:30 Failproof, On-Demand DR with VMware Cloud on AWS. #HBI3502BUS
13:10 – 14:00 HomeLab Evolution over the years. Hear from the official HomeLabKing .#VMTN5002U
14:00 – 15:00 Unified Acces Gateway: Securing Virtual Desktops and App Access. #ADV1798BU
15:30 – 16:30 Showcase Keynote: Becoming a Champion of Digital Employee Experience. #DW3459KU
17:00 – 1800 vSphere HA and DRS Hybrid Cloud Deep Dive. #HBI2186BU
Tonights Party: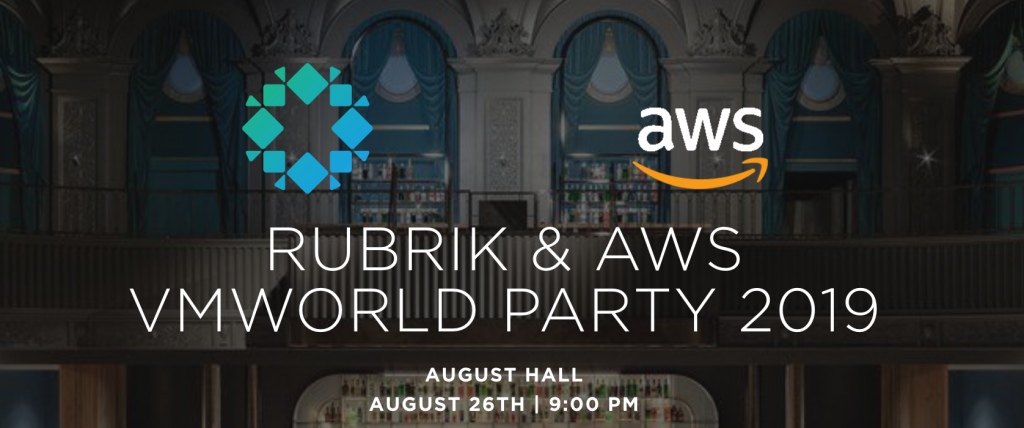 #wutangclan #rubrik #aws #VMworld2019 #augusthall pic.twitter.com/bbrWnfabYQ

— John Wu (@askjohnwu) August 27, 2019