Update:
After an upgrade to vCenter Server 7.0.0c, you see high CPU usage.

Patch for VMware vCenter Server Appliance 7.0.0d
After you upgrade your vCenter Server system to vCenter Server 7.0.0c, CPU usage continuously stays high. On a single-core, CPU usage might spike up to 100% for hours. The Workload Control Plane service causes the issue, even if you do not have Workload Management enabled in your environment.
This issue is resolved in this release.
https://docs.vmware.com/en/VMware-vSphere/7.0/rn/vsphere-vcenter-server-700d-release-notes.html
The issue
After upgrading my vCenter server appliance to the latest patch, 7.0.0.10600 Build 16620007, I found out that the CPU usage was abnormally high than before. Specifically on "observability". Constant 4 to 5Ghz usage with just 4 hosts connected.  Top shows java being the pain and vimtop shows observability hogging the CPU.
After some troubleshooting and consulting in the VMware Slack channel for vCenter we saw that the WCP service is consuming a lot of CPU. Ended up stopping that service and everything was back to normal. Thanks, Martin Gustafsson for pointing it out 🙂
Be aware!
When disabling the WCP Service you will be unable to put a host in maintenance mode. For a lab, this is not a problem but disabling it in a production environment is not recommended at all.
You will be warned with "Host cannot enter maintenance mode because it failed to enter Namespaces maintenance mode on the node."
So now what?
To disable the Workload Control Plane service login to vCenter on the management page with https://vCenterFQDN:5480 and go to services. Then on the bottom, you will find the Workload Control Plane where you can disable it. If you are running Kubernetes then you might need to contact GSS for another fix because the Workload Control Plane is kinda an important part of that 🙂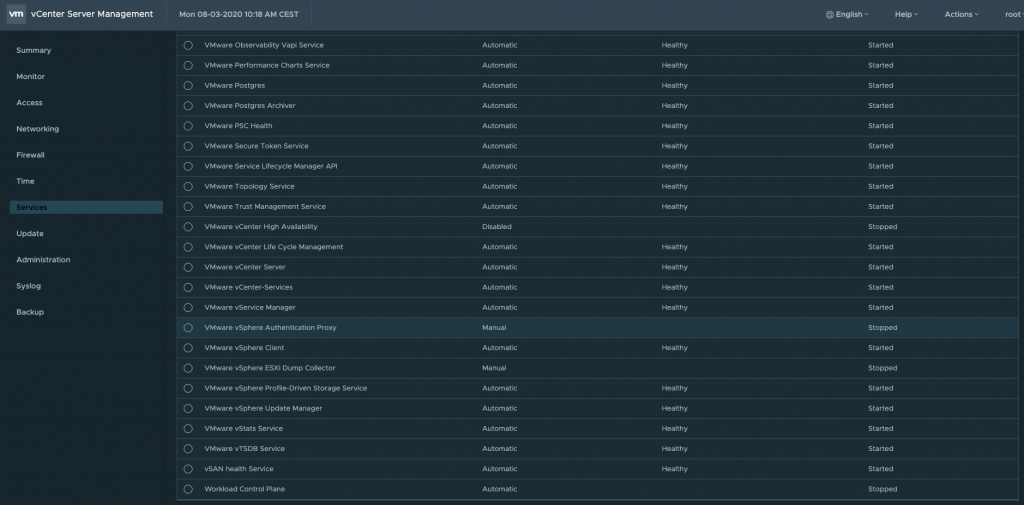 After disabling the service you can see that my CPU usage went down to normal.

The bug has been reported and waiting on the fix. Bugzilla 2615223 for who has access to it as a VMware Employee or PSO consultant.
Disabling it via 5480 is just a one-timer. After reboot, it's back on hogging CPU cycles. Want to disable it permanently? Follow this guide:
vCenter Appliance 7.0 – Disable Services
or
How to change the startup setting of services in vCenter Server Appliance 6.x using command line
So 3 ways to go with this issue.
Restore to a previous backup.
Disable the Workload Control Planes service and lose maintenance mode.
Wait for the fix and ignore the CPU usage.