Oh Yeah! Just did it and passed in the first run. Could not be more happy!
Was a tough cookie to crack in the allotted time. Lost most time in Mirage..
In my VMware life i really never got around touching mirage and by hell.. never want to 🙂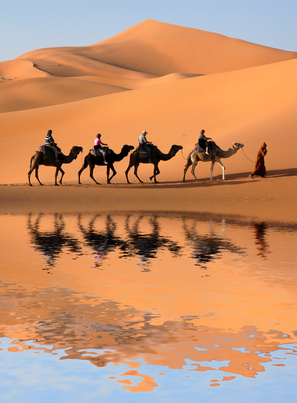 There were a lot of configure pool this, recompose that tasks. A few in vIDM importing users. (look out for that email requirement)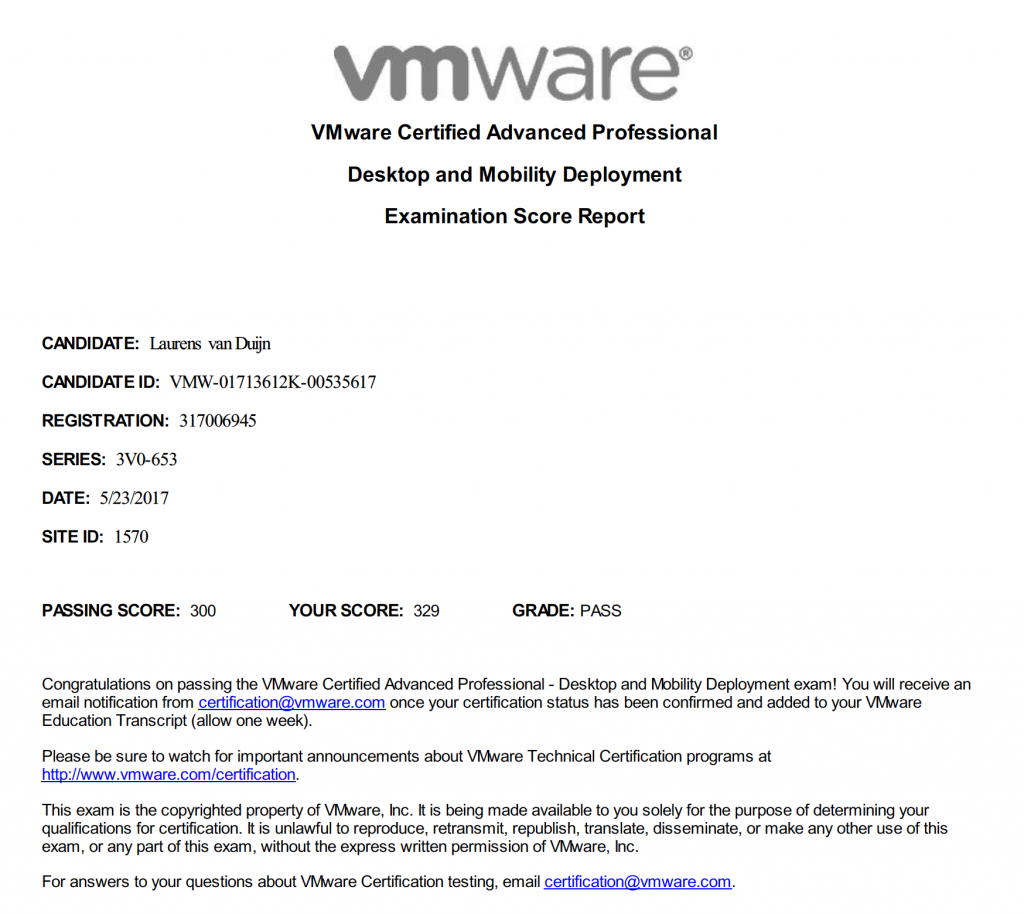 Preparations:
To prepare for this we held some internal bootcamps at the ITQ HQ.
Each of us had a target topic to dive in to and make it presentable for the rest. Including practices.
This helped me a lot for the mirage part, thanks guys!. Also did a few Hands on Labs. Especially the Challenge lab. This one touches a lot of the exam, although it's Horizon 7. And some experience with the products might help 🙂
HOL-1791-CHG-1: Horizon Challenge Lab
The Horizon Challenge Lab will provide you the ability to troubleshoot and resolve the Top 5 issues that our Customers experience in their End User Environments. Whether you have deployed VMware App Volumes, VMware Identity Manager, VMware User Environment Manager or VMware Horizon 7, we have Challenge for each and everyone of you.
Introduction to the Environment (30 minutes) (Basic) During this module you will get familiarized with the Horizon environment you just inherited from the previous administrator. You will leverage tools and consoles for Horizon, vSphere, vRealize Operations for Horizon, and App Volumes to get a better understanding of the current infrastructure.
Module 2 – Users reporting connection issues (30 minutes) (Advanced) Help Desk is reporting users are having trouble connecting to their desktops and are just receiving a black screen. During this module you will use troubleshooting techniques to diagnose and solve the issue.
Module 3 – The CEO cannot log into vIDM (30 minutes) (Advanced) Recent changes in the Active Directory infrastructure have led to an interruption of the Identity Manager (previously Workspace) service. During this module you will be assigned the task of restoring the service and making sure your users can connect to their desktops and applications.
Module 4 – Deploying Applications in a better way (45 minutes) (Advanced) After solving the main user reported issues, you finally get the opportunity to start improving your Horizon infrastructure. After being asked to deploy a new application, you embark in the process of creating a new application management layer using App Volumes 3.
Module 5 – Improving User Experience (30 minutes) (Advanced) With multiple access methods, users are reporting that their user experience is not consistent across the board. During this module you will leverage User Environment Manager to address this issue and provide your users with a consistent experience.
Module 6 – Just-In-Time Desktops (45 minutes) (Advanced) As part of optimizing your environment you have been tasked with reducing the storage footprint and reducing the burden on the maintenance windows required for desktop recomposing. During this module you will use Instant Clone technology to provide users with the ultimate flexible desktop: Just-in-Time desktops!
Module 7 – Securing your Horizon Desktops (45 minutes) (Advanced) As the organization continues to adopt and develop virtual desktop use cases, the Security Team has raised concerns around the ability to access critical database and application resources when leveraging virtual desktops. In this module, you will leverage network virtualization to ensure isolation of applications, databases and desktops.
And checked out these blogs:
https://szumigalski.com/2016/08/01/vcap6-dtm-study-guide/
http://sostechblog.com/2016/07/26/vcap6-dtm-desktop-and-mobility-deployment-exam-launch/
https://pascalswereld.nl/2017/03/14/vcap-dtm-deploy-prep-horizon-lab-on-ravello-cloud-and-import-ova/
VCAP-DTM Deploy Prep: La La Land Lab and Horizon software versions
Want to plan your own VCAP6-DTM Deploy? check below!
VMware Certified Advanced Professional 6 – Desktop and Mobility Deployment Exam
Exam Number: 3V0-653
Duration: 205 minutes
Associated Certification: VCAP6-DTM Deployment
Number of Questions: 39
Exam Product: Horizon Version: 6.x
Passing Score: 300
Recommended Training: Horizon: Design and Deploy [V6]
Validated Against: Horizon 6.x
Exam Price: $450 USD, More on Pricing
Exam Languages: English
First Available Appointment: 01 August 2016
Format: Lab-based
Exam Information Last Updated: 25 July 2016
This exam tests your skills and abilities in implementation of a VMware Horizon 6.x solution, including deployment, maintenance, administration of Horizon components, desktop optimization, desktop pool management, endpoint management and storage.
+ Section 1 – Configure Horizon Components
+ Objective 1.1 – Configure and Manage Horizon View Components
+ Objective 1.2 – Configure and Manage VMware Mirage Components
+ Objective 1.3 – Configure and Manage VMware Identity Manager Components
+ Objective 1.4: Configure and Manage vRealize Operations for Horizon
+ Objective 1.5: Collect Diagnostic Information and Locate Log Bundles
+ Section 2 – Configure and Optimize Horizon Desktop Images
+ Objective 2.1 – Configure Group Policy Settings Related to Horizon View
+ Objective 2.2 – Configure and Optimize Desktop Images for Horizon View and Mirage
+ Objective 2.3 – Configure vSphere Resource Management to Support Horizon Desktop Pools
+ Section 3 – Create and Manage Horizon Desktop Pools
+ Objective 3.1 – Create and Configure Horizon Desktop Pools
+ Objective 3.2 – Create RDS Farms and Application Pools
+ Objective 3.3 – Recompose/Refresh/Rebalance Desktop Pools
+ Objective 3.4 – Modify/Reconfigure Desktop Pools
+ Objective 3.5 – Entitle Desktop Pools Based on Requirements
+ Objective 3.6 – Configure/Modify View Composer Persistent Disks
+ Objective 3.7 – Configure Cloud Pod Architecture for Multi-Site Pool Access
+ Objective 3.8 – Configure and Manage App Volumes AppStacks
+ Objective 3.9 – Configure and Deploy ThinApp Packaged Applications
+ Section 4 – Configure and Manage Horizon Endpoints
+ Objective 4.1: Configure and Manage Horizon Desktop/Device/Web Endpoints
+ Objective 4.2: Configure a Kiosk Endpoint
+ Section 5: Configure and Administer VMware Mirage
+ Objective 5.1 – Configure/Capture/Deploy Reference and Endpoint CVDs
+ Objective 5.2 – Configure Common VMware Mirage Management Options
+ Objective 5.3 – Restore a VMware Mirage Endpoint
+ Objective 5.4 – Configure the Mirage File Portal
+ Section 6 – Configure and Administer VMware Identity Manager
+ Objective 6.1 – Configure User Access to VMware Identity Manager
+ Objective 6.2 – Integrate Desktop and Application Resources with VMware Identity Manager
+ Objective 6.3 – Integrate ThinApp Package Services with VMware Identity Manager
+ Objective 6.4 – Integrate Active Directory with VMware Identity Manager
+ Section 7 -Configure and Manage Storage for a Horizon Deployment
+ Objective 7.1 – Create a Virtual SAN Cluster and Configure View for Virtual SAN
+ Objective 7.2 – Configure and Optimize Storage for Horizon View Pools
+ Objective 7.3 – Configure Storage for VMware Mirage
+ Section 8 – Troubleshoot and Monitor a Horizon Deployment
+ Objective 8.1 – Troubleshoot a Horizon View Deployment using vROPs for Horizon
+ Objective 8.2 – Troubleshoot Performance Issues in Horizon Components
+ Objective 8.3 – Troubleshoot Mirage Installation/Configuration Issues
+ Objective 8.4 – Backup and Restore Horizon View Components
+ Objective 8.5 – Troubleshooting Connectivity Issues with Horizon Components