So yes, it was time for a proper Home Lab.
Previously i would run my Virtualization tests with VMware Workstation on a laptop or on a small desktop system and that works just fine but after a while, when you are addicted to this, you start to see a few limitations..
In my case the Home Lab is an investment into the future enabling me to test, play and learn more how and when i want. Also this new beast will run this blog in a Virtual Machine.
The CPU, RAM and disk space on a laptop is limited to what you buy or get from the boss guy:). In my case i was working of a pretty sweet MacBook Pro with dual core cpu packed with 16GB ram for on the road and a small desktop with 32gb ram powered with a i7 cpu at home.
Both do there job just fine but i want to play more with Virtual desktops and a lot of other cool VMware software like AppVolumes, UEM and ESXI.
Like most IT guys you burn to a lot of configs in your shopping basket until you can decide what the heck you gonna choose..
In my case i was shifting between a 2 or 3 shuttle hosts or one big kahuna to run it all. Both have there pro's and cons but in the end the biggest counter weight on it all is the WAF factor.
Since my other hobby, drones ain't cheap either so one must balance.
The rig i eventually picked out:
Base system:
Motherboard: MSI X99A RAIDER, socket 2011-3
CPU: Intel® Core i7-5820K 3,3 GHz socket 2011-3
Memory: 2x Corsair 32 GB DDR4-2666 Kit 64GB total.
CPU fan: Scythe Katana 4.
Graphics Card: MSI N210-MD1GD3H with 1GB VRAM.
Why? MSI X99A can handle 128GB and Xeon cpu's. Looked at a lot of supermicro boards but still chose the MSI. To start with a normal 6 core CPU with HyperThreaded i7 and 64GB of RAM was just $$ wise. Later on when needed i can pull out the i7 and sell it online. Then put in a similar Xeon CPU and add 64GB more ram to total it to 128GB. The CPU fan is huge but it's silent as a ninja and as cool as a polar bear! Graphics card is needed because the i7 and Xeons do not have a integrated GPU on chip. Later on i might replace this with a Nvidia Quadro for Horizon vGPU test.
Storage:
A pre owned 32GB SSD as boot drive
2x Crucial BX200, 480 GB SSD
2x Toshiba DT01ACAxxx, 3 TB
Why?  SSD storage is getting cheaper by the minute.. and the normal storage is just to have enough.
Extra Network card:
Intel® EXPI9301CT
Why? MSI has one nic onboard, a intel 219-V and that should be supported by ESXI, wanted an extra intel nic just in case to send over the back-up traffic.
Sharkoon WPM700 Bronze
Why? This Sharkoon is freaky a silent case with already 3 fans mounted in it. The PSU is fine enough. Has cable management so cables not needed are simply not plugged in.
The Build:
One of the reasons i choose the Sharkoon BW9000-W was the amount of drives i could put in it and the cable management. Also it was pretty wel priced for what you get.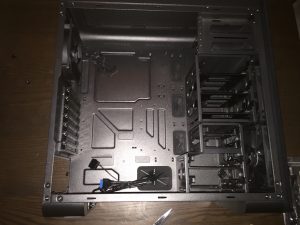 Just put in the system board.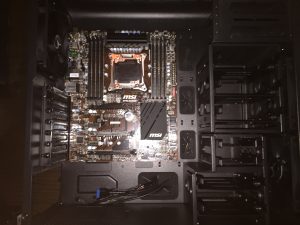 The CPU fan is HUGE but silent. Airflow is sucked in the front of the case by 2 fans, cooling the HDD and SSD, then CPU fan sucks in and heat gets sucked out to the back.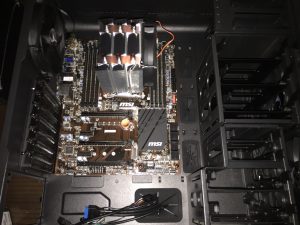 Here i put in the HDD and PSU.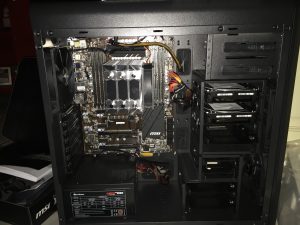 And the final result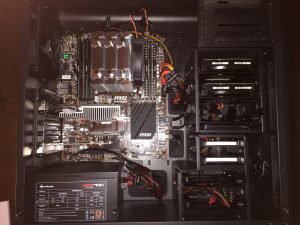 I did not lose my build mojo and the "server" booted up just perfectly on the first power on.
My new Home Lab, vDroneESX01 wil run VMware ESXi 6.0 U1a.
Here i will run a bunch of VM's for VMware Horizon and lot of other products to test. Also it will run this Blog and a Plex server for entertainment for the kids.
My old, vDroneESX02 wil also run VMware ESXi 6.0 U1a. (i7 4 cores with hyperthreading, 32GB ram and 256GB SSD/1.5TB HDD)
Here i will run vCenter Appliance and a back-up server with Veeam. Backing up all my "critical" systems to a Synology Nas.
One cool thing to mention is that the new bios of the MSI X99 is fully graphical. Pretty darn cool.
Now time to install the new machine with esxi and see what driver might fail or not and use it like a mad scientist…