Last year i did a review and setup guide for the Vortex 250 Pro. In the months after i pimped and tuned it a few times. Now it's time to do the same for the Vortex 150 mini! The parts used in this kit makes it ready to fly, crash, repair and repeat 🙂 What also is a treat that i will tests the Fat Shark Attitude V4 Anniversary Edition goggles! Love my Dominator V3 but this one will come close to it in 4:3 instead of 16:9. This will come in a separate review. This will be a live post and grow with more information when using it more and more!
Vortex 150
For this kit, the parts below are used and supplied by Toemen.nl, FotoBooms.nl and DroneShop.nl:




Vortex 250 vs. 150-Mini Comparison
The Vortex 250-Pro and 150-Mini share the same roots, but are quite different quads.
The following table demonstrates the differences:
Setting up the Spektrum DSMX Quad Race Receiver with Diversity is pretty easy. The Spektrum cable is connected by default in the vortex 150. You need to unscrew the 8 top screws and you have full access to the inside.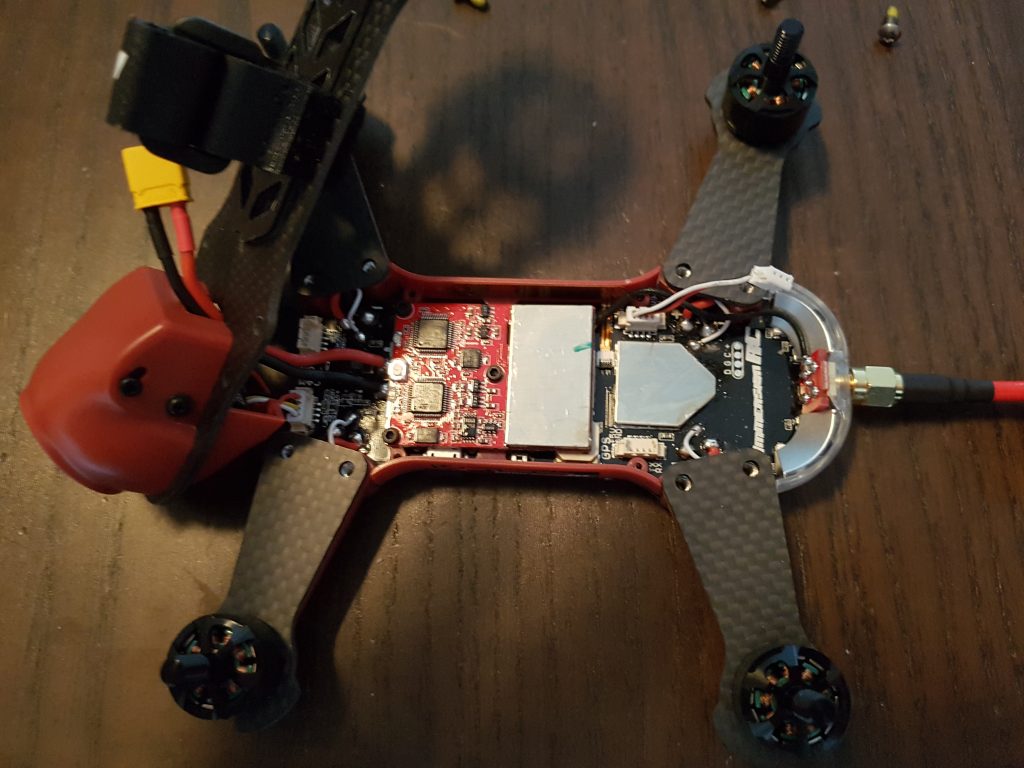 Then just plug it in and send the antenna's through the holes in the casing. As you see the receiver SPM4648 fits like a champ and hides perfectly inside.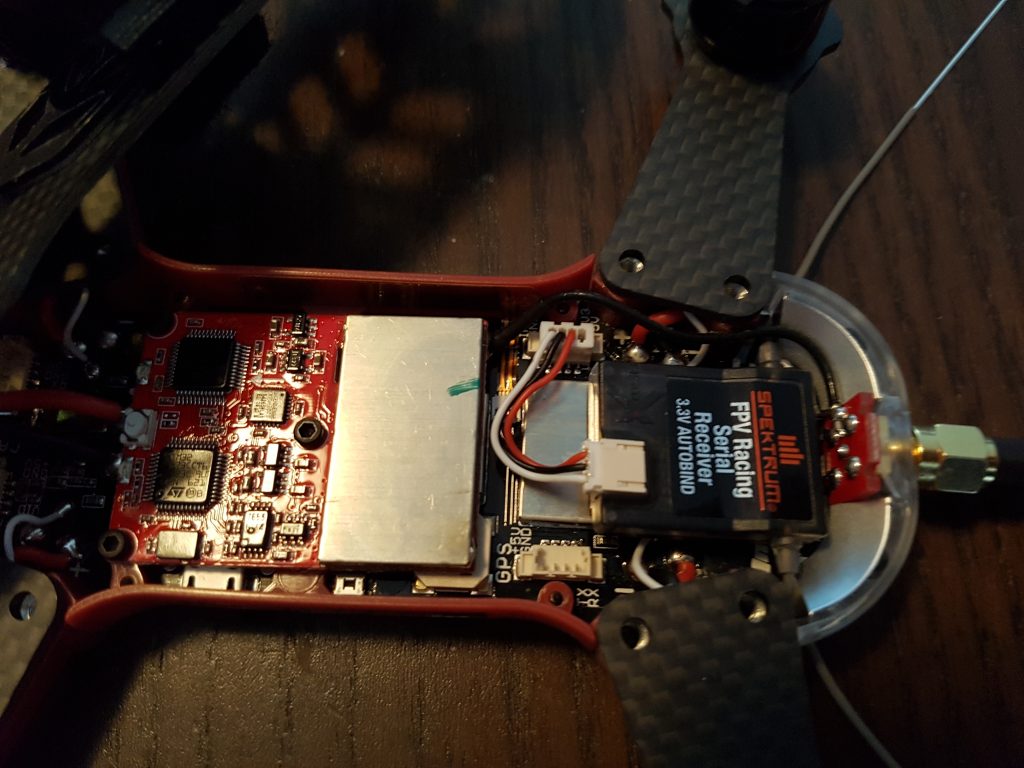 Updating the firmware
Be Aware, betaflight 3.1.7 has issues where your vortex will yaw and wobble when punching out! This can be temporarily fixed to enable AirMode either to the arm switch or permanently.
Out of the box my vortex came with v1.0.0.35. currently (22 june) the newest firmware is v1.0.0.41 release on 03/27/2017.
Download the latest firmware here.
How to update OSD:
1. Plug USB
2. Plug LiPo
3. Wait 5 seconds
4. Start vortex-configurator(*)
5. Select right COM port
6. Click Flash Firmware
7. Select OSD firmware (OSD_v1.0.0.41.fw)
8. Wait for OSD upgrade completion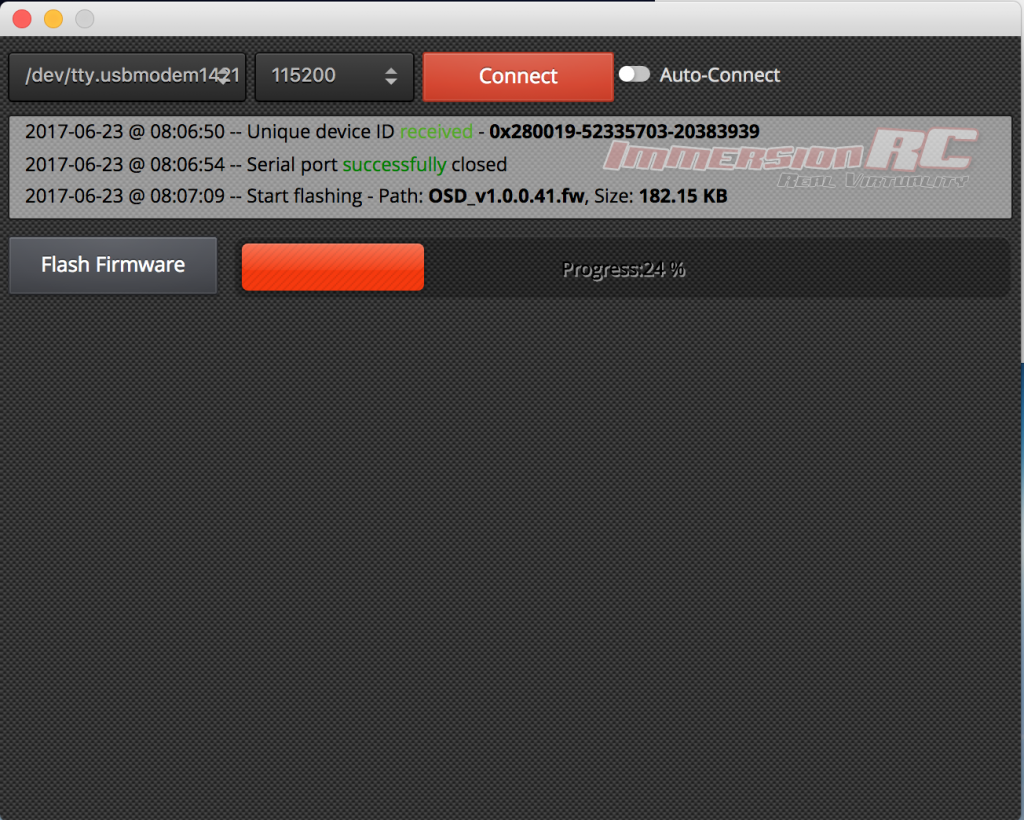 How to update Flight Controller
1. Plug USB
2. Plug USB OFF and On again
3. Plug LiPo
4. Wait 10 seconds
5. Start vortex-configurator(*)
6. Select right COM port
7. Click Flash Firmware
8. Select betaflight firmware (betaflight_3.1.7_IRCSYNERGYF3.hex)
Sometimes it may need few attempts before it starts flashing (the vortex-configurator will do it for you).
Retry the entire procedure for flight controller if it does not work the first time.
Also the verification sometimes fails, but upgrade is just fine.
In that case check with betaflight-configurator(**) if flight controller is fine.

(*) vortex-configurator is a chrome application; you can install it from here:
https://chrome.google.com/webstore/detail/vortex-configurator/jelolponpnnidoojekihdojjdjphdeog
(**) betaflight-configurator is a chrome application; you can install it from here:
https://chrome.google.com/webstore/detail/betaflight-configurator/kdaghagfopacdngbohiknlhcocjccjao
Be aware, updating the betaflight will give you a timeout but this is ok!! Flash is correct but verification just fails. Known issue.
The quad will beep different, wait a minute and disconnect it. then power cycle the quad by disconnecting the battery and attaching it again.

How to enable telemetry on a v150/v180/v250
Minimum software requirement
OSD: v 1.0.0.41
FC: betaflight 3.1.6 (IRCFUSIONF3:v250, IRCSYNERGYF3:v150/v180
HW Cabling
Telemetry pin connected to GPS connector RX pin on PDB
Configuring betaflight for telemetry using betaflightconfigurator
1. Configure UART2 for Smart Port Telemetry Output ( looks for right protocol

Save and Reboot…
WARNING: You may have to force Serial RX on UART3 after.
Don't forget to configure Receiver too if it happens!!
2. Configure Other Features and Enable Current and Voltage Meter

Save and Reboot…
3. Configure Current and Battery Meter type to EXT using CLI (not available though regular configurator UI interface)
set battery_meter_type = EXT
set current_meter_type = EXT
save
Set ARM to a switch
Choose your model from your Tx and go into the system setup.
Scroll down to channel assign , click the roller , and hit next.
Confirm you're in the tab called "Channel input Config".
Channel 5 , named gear, is a 3 way switch designated to choose flight modes.
Click on Channel 6 , (Aux 1 in your tx ), and flip or choose the switch you'd like to use to arm/disarm and click the roller to save.
Do this three times, because you have Acro mode, Angle mode and horizon mode. You will need to map the channel on all 3 modes.
Now boot up Betaflight , and look at the receiver tab to confirm that particular switch's movement registers.
Finally you can go into the modes tab , hover over the box marked "arm", and select the aux channel that corresponds with your switch.
You can see a little yellow line moving along with the travel of your switch.
Now make sure the yellow slider bar is in the range of the position you'd like to arm.
Hit save ! and now confirm the "arm" box becomes yellow when moving the switch in the position you told it to arm.
Spektrum Vortex 150 Profile
Created a custom profile for you Spektrum! download is below.
This has all the tweaks done and you will only need to map the ARM switch if you want one.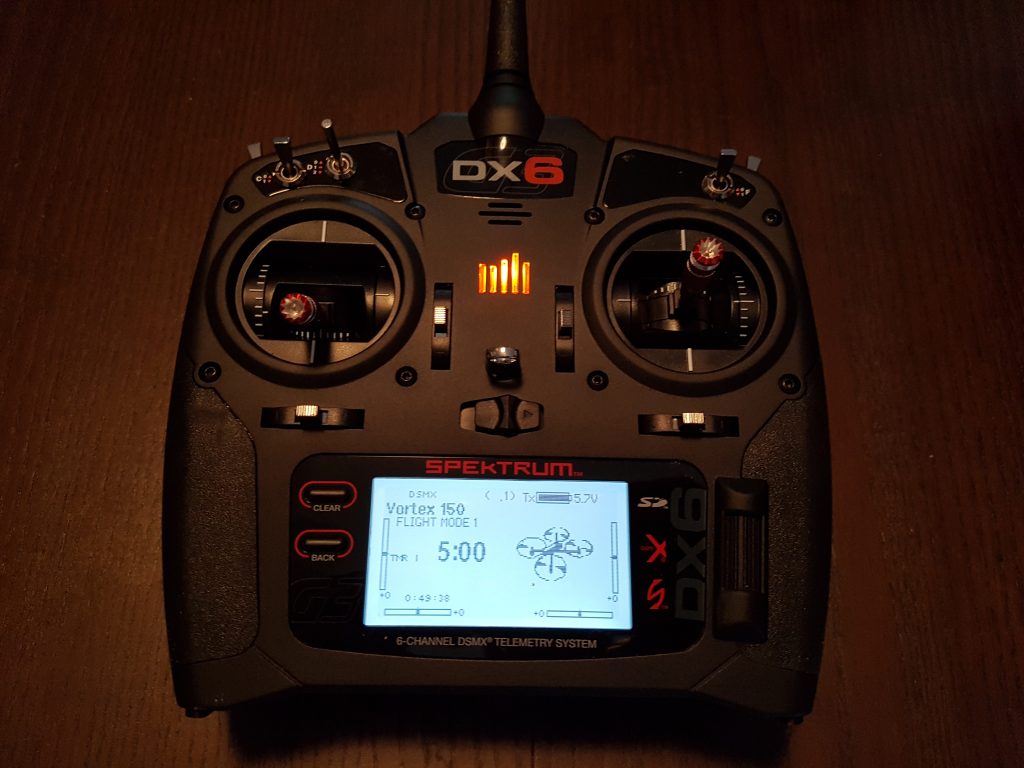 First Flight 24-06
Just did my first 4 lipo packs with the Vortex 150 and wow.. it's like a hulk in small size!
I does not feel like a brick or what so ever. It's very agile and it packs one hell of a punch.
Did eventually swap out the props for the DAL T3045 Indestructible Bullnose Propellers because the stock are quite flexible.. when you punch it tends to drift. With the DAL T3045 this is not the case. These DAL props are a little thicker and sturdy.
Few flights later
Switched back to the stock props after tuning the crap our of the vortex. earlier i mentioned that i had some issues and switched to the DAL T3045 but those are a pain to mount properly because the mounting holes of the props are really tight.
After tuning and enabling Anti Gravity in BetaFlight this vortex is a awesome piece of work. Call it the MiniMe of the 250 🙂
Pros
The vortex is a mini hulk with much power. It flies like it's brother the 250.
I love it's small size, fits trough the little cracks and makes flying real fun.
Cons
Upgrading the betaflight firmware 3.17 provided by immersionRC has a bug. Bypass by enabling AirMode as a mode on the arm switch or enable it by default as a feature..
Default camera setup is too dark. you need to tune it a little.
Size might be to small to race. Either possible to upgrade to 180mm with the upgrade kit or wait and buy the Vortex 180 🙂
Ability to carry a go pro or other kind of cam is a pity but hey.. look at it's damn size.
Verdict
This is one sick puppy to fly! Love flying it and due to it's small size i take i almost everywhere. never missing a awesome spot to fly when you see it.
Would like to see if i could somehow fit a RunCam Split in this puppy but have no clue where to mount the camera board 🙂
USER MANUALS
Upgrades
Yeah already working on some upgrades. Waiting on the pimp kit from flite test. This will turn the 150 in to a stealthy black knight rider. Also ordered some clear props. Note that all pictures do not show the middle frame but it is included! also the stickers for the arms are.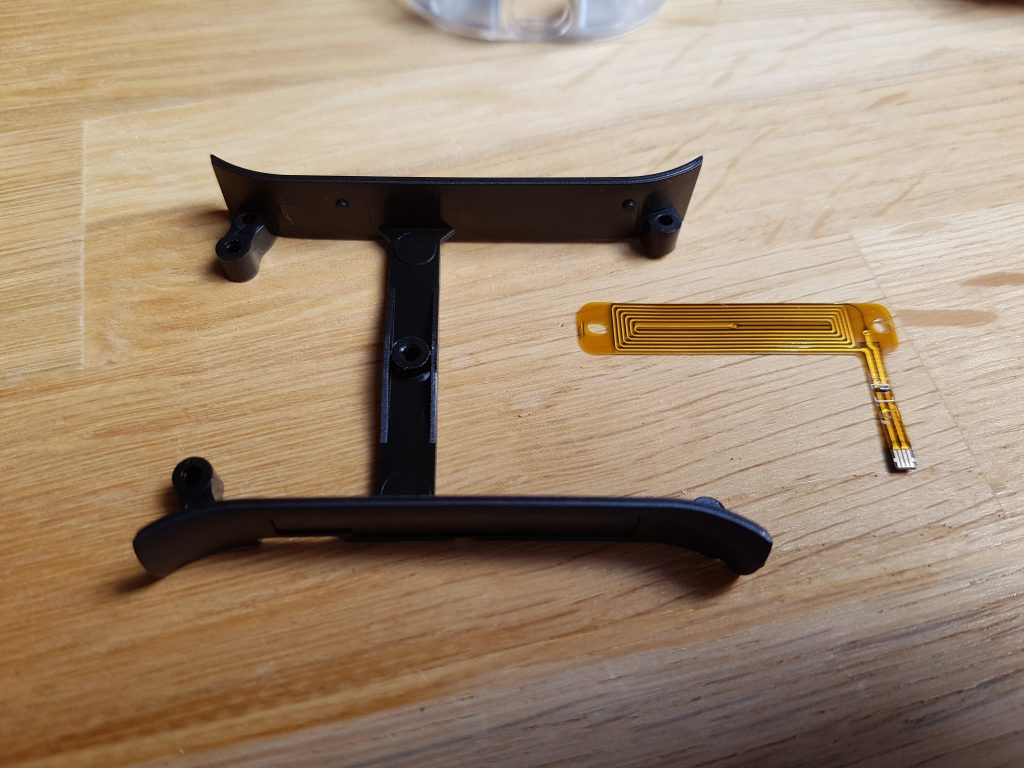 When applied with clear props it will look like a sexy beast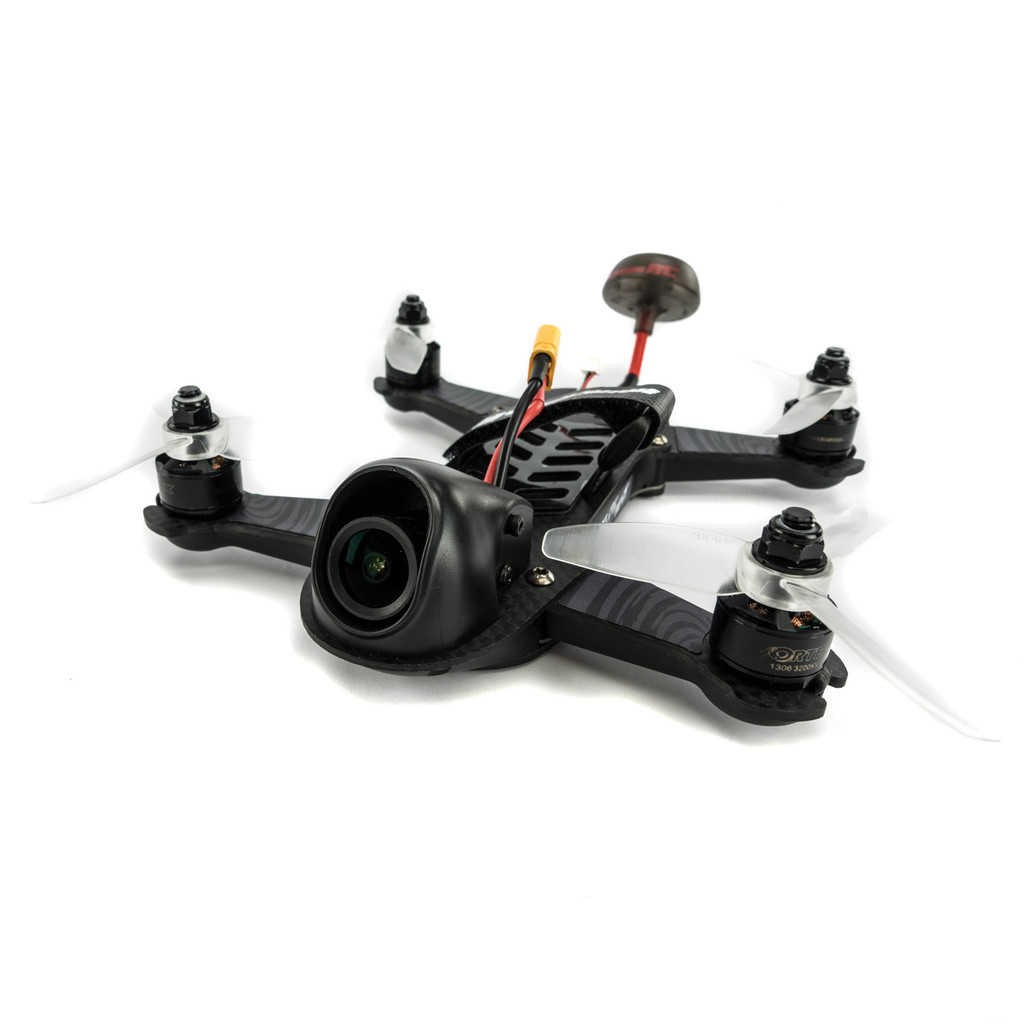 The Pimp:
So the goodies came in and i went in to change the looks.
First of all remove the top plate with the 8 screws. Then unplug the camera cable.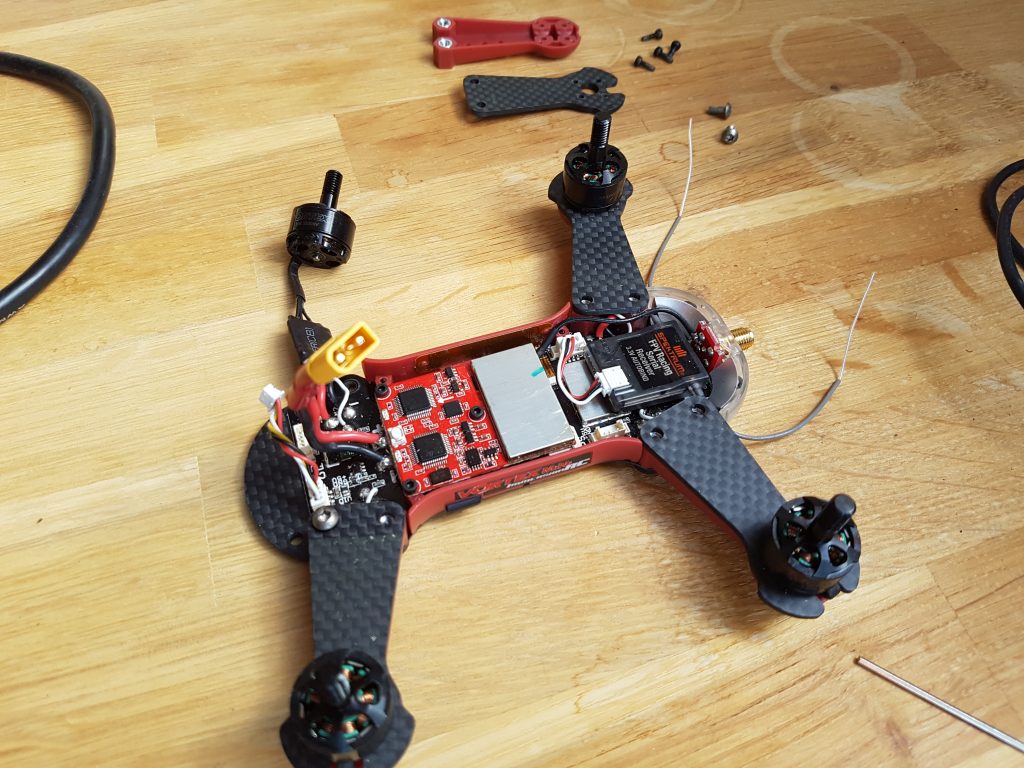 I just did a arm a time. Unscrew the 4 motor screws and then remove the carbon.
Then you can unscrew the arm from the bottom and get it loose.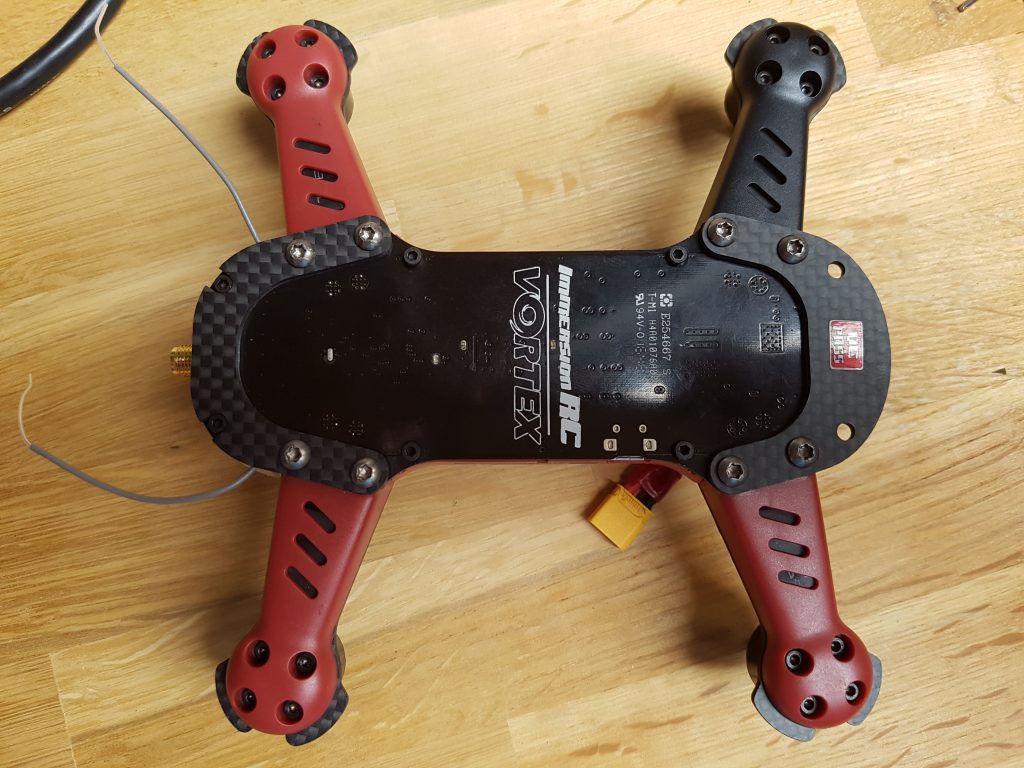 Just keep on changing those arms. After your done you can change the middle frame.
Note that you need to remove the VTX from the back.
The Tramp is hold down with 3 screws and the middle frame with 4 on the bottom.
Now that's done you can change the camera cover.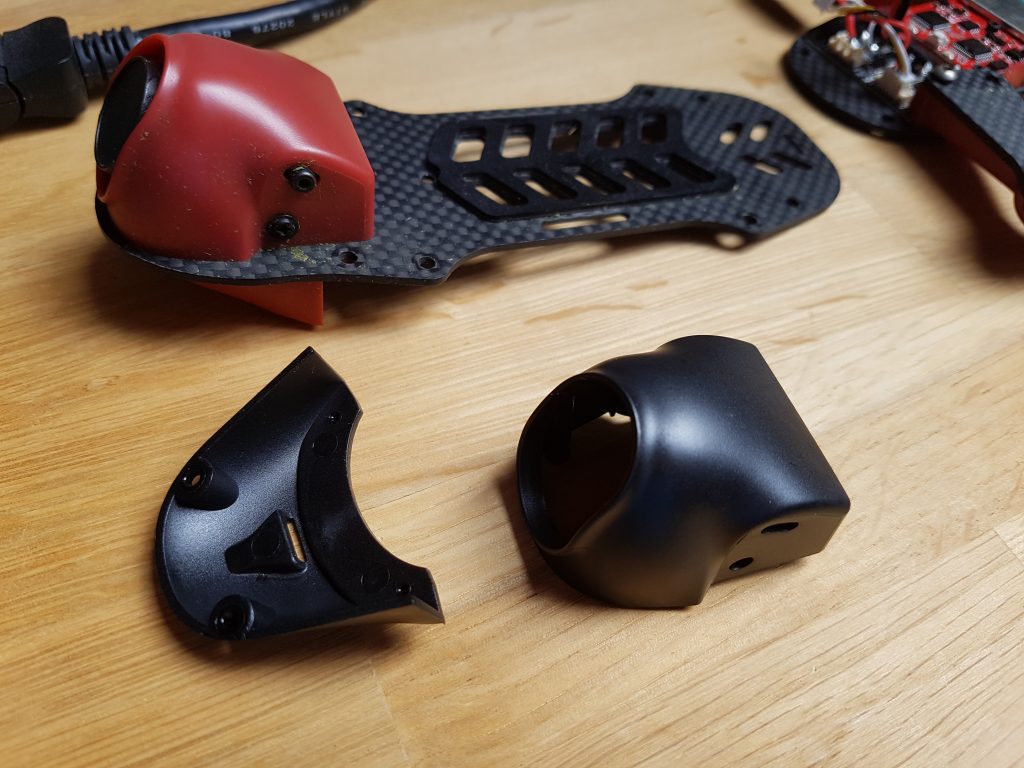 This is only mounted with 2 screws on the bottom. After removing those the top comes of. Then you can remove the camera from the casing. This can be a tight fit.
The result:
I also mounted the camera mount to carry a small cameras.
Supported camera's:
• GoPro Session
• Mobius Mini
• Foxeer 4K Box
• RunCam 3
• Polaroid Cube